Nokia N8
April 27th, 2011 posted by admin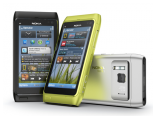 Nokia has made a leap into the touch market with the N8. How does it do? Well its way off compared to iPhone or HTC's but i'd actually not compared them. Nokia uses Symbian 3, which iPhone and HTC don't, hence its going to function differently. By this I don't mean quality wise, its a good phone no doubt, but the flexibility that one gets from on iPhone or an HTC is greater compared to the Nokia. While the only thing that Symbian does is copy and paste the same template (that includes icon designs and layout) and then just add a touch screen integration.
That's not a very impressive start. What they should have done is carry out an overhaul, but besides the the little changes in layout, the Nokia just feels like the same old Nokia. A couple of good things is that this is sold separately as an unlocked phone, hence perfect for the frequent traveler. Its got a 12 megapixel camera from which you shoot a movie, no problems there. The touch screen is responsive, the outer casing is sturdy and well made, it has a micro HDMI port (which includes the adapter in the package). It also has the usual mobile broadband and sat nav (for 70 countries -paid subscription) as well as the OVI store (which is updating its store quite frequently with cool stuff).
I liked the phone but Nokia is like a Porsche, all they do make the car faster but they all look the same, no doubt their built well but comeon already, your customers need something new.
Similar Posts:
Otter nonsense : I've always been strangely intrigued by…
Signage tips for your online business : …
Ati radeon HD 5970 : For the value of a cheap used Audi car you…
Power of Android in Your Palm with HTC Incredible S : The new…
Comments are closed!