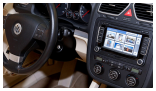 Smartphones are the technological device that conquered the modern day technology world. Consumers all over the world have boosted the demand of smart devices with more that 2000% percent in the last 10 years and the technological world is experiencing a boom in the availability of smart devices. What now might become another technological sensation is the plan of GM to incorporate advanced smart communication technology in its cars of a new generation.
OnStar is the department within General Motors that researches the possibilities of developing technology for advanced communication within the vehicles of the company that are to be produced in the future. The researchers with General Motors have shown some pretty satisfactory data that the consumers in the US might be quite interested in the idea. In addition to phone communications, advanced GPS communication and multimedia packs, the GM cars would be equipped advanced 3G technology that would allow internet use. the internet might be particularly important for people on the way, GM reveals, and would allow the use of business applications during long runs.
In competition to OnStar, Ford and Hyundai are also rapidly developing plans of transforming their cars into 2-ton smartphones. Users nowadays are reported to demand more and more services from their vehicles and to efficiently respond to such requirements, especially in the US, is by developing innovative means of communication. If successfully incorporated, smart control of internet in car vehicles might be the next step towards a complete modernisation of transportation and communication technology. This might also increase the worldwide roaming plans availability as communication means would be incorporated for the use of people travelling on the roads.
Similar Posts:
Paying for the symbol or paying for the product? : One of my…
Signage tips for your online business : If your company relies…
Ati radeon HD 5970 : For the value of a cheap used Audi car you…
Get Waved Up : For the epitome of cool, hit the link. You…